Waghalter Songs to be Performed at Atlanta Concert Commemorating Holocaust-Era Composers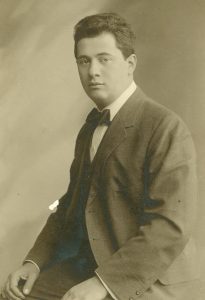 Two cycles of songs composed by Ignatz Waghalter will be performed on March 23, 2017 at a concert at Kennesaw State University's School of Music. The title of the concert is Songs Not Silenced: Music Forbidden in the Holocaust. The concert is devoted to the work of composers whose work was banned in Nazi Germany and occupied European countries. In addition to the works by Waghalter, the concert will perform songs by Kurt Weill, Darius Milhaud, Viktor Ullman and Ilse Weber.
The works will be performed by KSU vocalists Jana Young and Oral Moses, with pianist Judy Cole accompanying. Professor Laurence Sherr, the composer-in-residence at KSU and an internationally recognized specialist in the subject of music during the Holocaust, will provide commentary. David Waghalter Green has been invited to speak about the life and work of his grandfather.
The songs, from Opus 7 and Opus 11, are relatively early works by Waghalter, composed during the first decade of the twentieth century. Waghalter had completed his studies at the Akademie der Künste in Berlin, and was already establishing a reputation as a conductor and composer. The exceptional lyricism revealed by Waghalter in his early string quartet and Sonata for Violin and Piano impressed Joseph Joachim, the violin virtuoso and friend of Brahms. He urged Waghalter to compose for the voice. The favorable reception of his songs led Waghalter to become an opera composer, the genre in which he produced his greatest works.
The concert program and additional material may be accessed at the website of The Kennesaw School of Music.