Ignatz Who? Irmina Trynkos Discusses a Forgotten Composer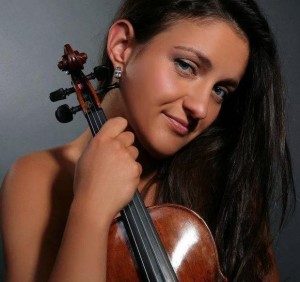 By Jerry Dubins (Fanfare Magazine)
My interview with violinist Irmina Trynkos is to focus primarily on her discovery and new Naxos recording of violin works by Ignatz Waghalter, a Polish-German composer of Jewish descent who, for all practical purposes, history has discarded. But first, suspecting that Trynkos herself may be unfamiliar to readers let me introduce her.
Since her appearance with Neeme Järvi at the Oistrakh Festival in 2008, Irmina Trynkos has been building her career and establishing an international reputation as an artist of exceptional talent. Recent debuts include concerts at the Berlin Philharmonie, Wigmore Hall, Southbank Centre's Queen Elizabeth Hall, Shanghai Concert Hall, and with the Royal Philharmonic Orchestra; all were greeted by a torrent of applause and praise. As a gifted communicator, she brings classical music to the young and to new audiences by representing charitable organizations, such as Live Music Now, The Worshipful Company of Musicians, and Concordia Foundation. Irmina is strongly involved in premiering new compositions and working closely with modern composers such as Nimrod Borenstein, who is currently writing a sonata for her next CD.
Based in the U.K., Irmina is of Greek-Polish descent, and was sent to study at the conservatory in Kiev at the age of 12. From there, she went on to earn her bachelor's degree in just two years at the Mozarteum Music University in Salzburg, following which she was awarded a full scholarship to the USC Thornton Music School in Los Angeles. Finally choosing to settle in London, Irmina had the privilege of studying with celebrated violinist Lydia Mordkovitch. She graduated from her class at the Royal Academy of Music with distinction as a recipient of many major international awards. Irmina plays a Jakob Stainer violin from 1670.
Now I turn to Irmina to tell us about our mystery guest.
Q: So, who was Ignatz Waghalter? Give us his bio.
A: Ignatz Waghalter was one of the most extraordinarily gifted musicians of his time. His life and career, like those of many of his contemporaries, was tragically shattered by the catastrophe of the Second World War. The degree of his subsequent obscurity, when contrasted to the scale of his pre-1933 prominence, is striking. Ignatz Waghalter was born in Warsaw in 1881 into a Jewish family with deep musical roots. His ancestors included Laibisch Waghalter, a violinist known as the "Paganini of the East". His eldest brother Henryk was one of the most celebrated Polish cellists and a professor at the Warsaw Music Academy.
Displaying exceptional musical talents, he performed extensively as a piano prodigy. The teenage Waghalter yearned to develop his unique talent and at the age of 17 decided to leave his beloved home in Poland crossing the German border on the way to an unknown future. Waghalter's tenacity paid off when by pure chance he came to the attention of Joseph Joachim, the great violinist and friend of Brahms, who supported the composer in his application to gain admission to the Academy of Arts in Berlin. Before long, Waghalter's talent for musical composition—especially his exceptional melodic imagination, began to make a well-deserved impression. His works were praised highly: the Sonata for Violin and Piano received the prestigious Mendelssohn Award when he was only 21 years old! The Violin Concerto and the Rhapsody for Violin and Orchestra were also composed during this early period of his musical career. Waghalter's reputation grew rapidly and soon he was appointed as principal conductor at the Deutsche Opernhaus in Berlin. This established his position as a pre-eminent conductor and a major public figure in Germany. Throughout his life, Waghalter was in love with melodicism and championed the music of many still unrecognized composers such as Giacomo Puccini in Germany. Without Waghalter's stubbornness and belief in the composers genius, Tosca and many other highly regarded operas would not have emerged on the German stage. Waghalter was a celebrated opera and film music composer. Poland and Germany shared equally a special place in his heart and in his compositions, he was inspired by both cultures. The operasJugend , based on the tragic realistic work by the German dramatist Max Halbe and Sataniel , inspired by a Polish fantasy tale, marked Waghalter out as one of the most lyrical of German operatic composers in the pre-1933 era. Waghalter's music was widely described as a "sensation."
Waghalter left the Deutsche Opernhaus in 1925 to succeed Joseph Stransky as musical director of the New York State Symphony (later to become the New York Philharmonic). Deeply attached to the cultural life of Berlin, Waghalter turned down an offer to remain there and returned to Germany. Although not a religious man Waghalter refused to convert. As a result he faced discrimination from the musical establishment in Europe. Shortly after the Nazis came to power the composer was forced into exile finally fleeing to New York. After arriving in the USA, Waghalter initiated a campaign to establish the first classical African-American orchestra. Though Waghalter appeared occasionally as a guest conductor, his opportunities were extremely limited during these last years and he died in relative obscurity in New York in 1949.
Q: How did you come to discover him and his music?
A: It was a couple of years ago when I spent few nights searching for repertoire that might attract my attention. Please do not get me wrong, I absolutely love all the masterpieces, like violin concertos by Tchaikovsky, Brahms, and Mendelssohn, but something inside was telling me that this is not the way I want to appear on the market. I always did choose quite different roads than musicians and this case wasn't that different. During one of those late evenings I came across the name of Ignatz Waghalter and after some research found an e-mail address where I sent a message with a question about the availability of the music. I received the answer within 20 minutes from someone who happened to be a grandson of Waghalter. I managed to find out that there is enough music to make a CD—a few of the pieces have unfortunately vanished. I was sure I was communicating with someone in America as it was already about 4 a.m. in London where I live, but the grandson happened to be on a business trip in London and still having jet-lag. He was responding to my e-mails from a hotel located three blocks from where I live. What a coincidence! We met the next day for much needed coffee and discussed further Waghalter's life and music. A month of or so later, I received the violin concerto and the rest of the pieces, and I must say that I was hooked. I couldn't believe that having Polish roots myself I had never heard about the composer and definitely didn't know any of his music.
Q: Tell me about your effort to record all of his violin works. I understand there's something called a "Waghalter Project," what's that about?
A: Shortly after getting to know his violin music I decided that this is what I was searching for, for my first recording. I founded the Waghalter Project, which aims to do everything possible to popularize these melodies and spread knowledge about this wonderful forgotten composer. I was joined in my efforts by British conductor Alexander Walker, whose love of Romantic repertoire, particularly from Eastern Europe, was very helpful. The Royal Philharmonic Orchestra took a great interest in the project and was supporting our cause all the way, as was Giorgi Latsabidze, the American-Georgian concert pianist who joined me for the recording of Waghalter's violin and piano pieces. I've always seen it in my head not as a single recording but as an order of events; therefore, the "Waghalter Project" was born. The aim of the CD is to spark interest in people's minds and open their hearts for something new but "old," which can really get to their emotional side. A series of concerts has already started and we had an amazing reaction from the audiences in different countries. I'm very much looking forward to the first Waghalter violin concerto performance since 1911 and further possibilities to share this lost part of the musical culture.
Q: In preparation for this interview, I did a little research on my own, and I learned that Waghalter was forced into exile during the Second World War and that after the war he pretty much faded from the public eye mainly because his musical vocabulary was so conservative for its time. He took no interest in the Second Viennese School or other contemporary movements of the day. How would you describe his music and what composers would you say most strongly influenced it?
A: Waghalter's intense melodic imagination was a distinctive characteristic of his compositions. The emotional authenticity and force of his lyricism, combined with the supreme technical quality of his compositions, is a unique expression of a pre-World War II musical culture. I don't think his musical vocabulary was conservative; I'd rather say that he chose to write people's music until the end, as this is who he was. Waghalter's music follows the path of Romantic masters like Schumann, although it is full of surprises, especially in the harmonic material and the rapid changes of music ideas. His ideas, though different, are comparable in some ways to those of Elgar, who uses similar exotic harmonies throughout his music. Waghalter's compositions are more about communicating human emotions than they are about constructing perfectly calculated forms, which you may respect but which won't touch your heart or make you think about your personal experiences. This is what Waghalter's music does; it brings you to a different world where it starts to be like a mirror to your thoughts, doubts, or happy memories.
Q: I notice that not all of the works on your new Naxos Waghalter album are flagged as world premiere recordings. In fact, only the violin concerto and the rhapsodie for violin and orchestra are. So, it's assumed there have been previous recordings of the Waghalter F-Minor violin sonata and the Idyll for Violin and Piano? If so, I don't find them currently listed? Would you know anything about them?
A: Yes, there is somewhere in existence an amateur recording of Waghalter's chamber music pieces which was one of the first proofs that this music deserves to be brought back to life. I'm very happy that other musicians find this music as appealing as I do, and I hope this music will become a sort of standard repertoire at some point.
Q: It's always exciting to discover a long-lost work and to be the first to perform and record it, especially a major orchestral score, like a violin concerto, written in 1911 just one year after Elgar completed his violin concerto, but that can be rather daunting as well. There are no models to study; you're completely on your own when it comes to figuring out the fingerings and bowings that work best, and, of course, tempos, phrasing, and overall interpretive approach. Then too, I should think there's an extra burden of responsibility in knowing that whatever you do will become a model for those who follow. How do you go about learning a work for which no performing precedents exist?
A: It's definitely a very exciting experience to work on a piece that nobody else knows or has ever seen. I always love to discover things by myself; even with music that is already recorded I never follow other's interpretations. Music should be mirroring you as an artist and should speak to the artist in a very personal way. At the end we all have different experiences and connect to music though our own emotions, and none of those can ever be the same. There is nothing more beautiful than to let the music find you. In this case there was really no other option, but it really didn't differ that much from anything else I approach. The music at the end speaks by itself if you just let it. The right bowing and fingerings come from playing it over and over again when you establish personal attachment to it. It's true that this is the first recording ever of the violin concerto and rhapsodie. I know, though, looking even at myself that in each piece there are so many possibilities. You see, music should live every time like it's the first and last time ever played. I do not ever try to repeat my own interpretations and prefer not to write too many things in my score, if any. That's why I'm so happy I could be working on these pieces with wonderful musicians who share my passion for making music in the moment. I can think of many people who would rather read how the music should be played because it feels safer and justified to play the way somebody wrote about it in his or her diary many years ago. For me music as a language has no limits and there is no point in being scared. Every composer gave enough directions in each piece, so if I just close my eyes and follow the lead in my personal way I will stay true to the music That might seem risky and scary, if you don't know what will happen until the end, but this way you keep the freshness and true joy of performing the same pieces each time.
Q: Obviously, Waghalter's concerto comes after the great late-Romantic virtuoso vehicles like the Brahms, Tchaikovsky, Wieniawski, Bruch, Glazunov, and Sibelius concertos, to name just some of them that come immediately to mind. How does the Waghalter compare technically? How long did it take you to master it?
A: Waghalter's music is definitely complicated technically, although all for a thoughtful purpose. All musicians work differently on new pieces. I like, for example, to learn a new piece by heart as fast as possible, to master it and then to let it rest and develop by itself slowly without further need of the printed page. This way you can listen to yourself as "from outside" and judge more from the audience angle. In any case, I find it is much better to focus on the music itself and where it's going, rather than on the technical challenges. The virtuosic show should just be a tool for us to create the right emotions in listeners.
Q: Again, referring back to my own research, I learned that Waghalter composed a not inconsiderable volume of music, including three operas, a number of operettas, at least one each of a symphony, a piano trio, and a string quartet. I know that in addition to your concertizing as a soloist, you're also a dedicated chamber music player. So, do you think you'll get around to Waghalter's quartet and trio?
A: Unfortunately, a significant amount of Waghalter's music has simply vanished. His opera scores are incomplete and the symphony, the trio, and a few others, for example, are nowhere to be found. I have the score of the quartet and hope to be performing it at some point as well. We are doing everything possible to find all the works that Waghalter mentions in his autobiography. As a part of the Waghalter Project, the book is expected to be published before the end of this year and available to buy worldwide. I would strongly appreciate any help from those who might have in their archives or know where to find other of Waghalter's pieces.
Q: Since the Naxos CD dedicated exclusively to Waghalter appears to be your debut album—please correct me if I'm wrong on that point—do you have plans to record other repertoire? If so, and if you had completely free choice, what are the three or four top works you'd like to record?
A: There are lots of plans ahead already and I'm actually working right now on a violin and piano album of French sonatas as a part of my next venture "Dead Goose Project." I hope to include there as well a sonata dedicated to me by an acclaimed French composer, Nimrod Borenstein. It will be followed by a recording of wonderful violin and orchestra works, details of which I'll unfortunately have to keep for now as a little surprise. What I can share with you though is that I'm longing to record Tchaikovsky's violin concerto at some point in the near future, as it has a very special place in my heart, and not because it's just a virtuoso showpiece as some think.
The interview as posted on the Fanfare Magazine website may can accessed at: http://www.fanfaremag.com/content/view/50602/10261/