Pianist Kyle Walker Performs Selections from "Zwölf Skizzen" in New York concert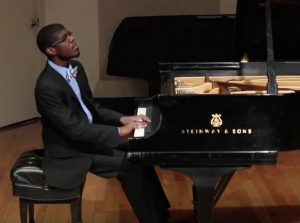 Ignatz Waghalter's inexhaustible melodic imagination frequently found expression in pieces that he improvised upon sitting down at the piano. Some of these improvisations would be later written down for eventual publication. This is the origin of Zwölf Skizzen (Twelve Sketches), which were composed in the 1910s and listed as Opus 17. The Skizzen were published in Berlin by Reis & Erler in 1919, and were intended as "difficult easy pieces," a genre beloved of composers  such as Mendelssohn, Schumann and Tchaikovsky.
Pianist Kyle P. Walker performed six of these Sketches (1-5 & 12) at a concert in Valley Cottage, New York, on February 19, 2017. The ambitious program also included Bach's Goldberg Variations, and works by contemporary composer Frederick Rzewski (b. 1938), the British-creole composer Samuel Coleridge-Taylor (1875-1912), and the African-American composer Margaret Allison Bonds (1913-1972).
Waghalter's Sketch Number 5 is titled "Beatrice," the name of his second daughter. My mother was told by her father that he composed the work in response to her first smile.
We are posting two of the Waghalter Skizzen performed by Kyle Walker: "Beatrice" and "Bagatelle" (Number 12).
[Views may learn more about this gifted young pianist by visiting Kyle P. Walker's website.]