Rudolf Nelson and the Waghalter Jazz Orchester
In the Berlin of the 1920s, Rudolf Nelson (1878-1960) was a dominant figure in the city's popular musical scene. A master of "kleine kunst," the "Revues" that he staged at the Metropol Theater featured many of the leading artists of the time. An astonishingly prolific composer, his songs were sung by such brilliant artists as Marlene Dietrich, Hans Albert, Claire Waldorf and Willy Prager. Josephine Baker, then at the height of her fame, performed at the Metropol. The brilliant left-wing writer, Kurt Tucholsky, wrote the text for many of Nelson's revues.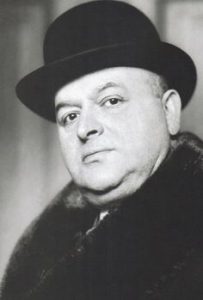 Among Nelson's many friends and musical colleagues was Ignatz Waghalter. Though his own musical reputation rested primarily upon his work as an opera composer and conductor at the  Deutsches Opernhaus, Waghalter had always been intensely interested in popular music. In addition to his major operas, Waghalter composed works for the popular theater, such as Der späte Gast, Bärbel, and Der Weiberkrieg. 
In 1924-25, Waghalter went to the United States to assume the post of general music director and first conductor of the New York State Symphony Orchestra. During his extended stay in New York, Waghalter met Irving Berlin, Jerome Kern, Paul Whitman, and the emerging giant of American music, George Gershwin.
Following his return to Berlin in mid-1925, Waghalter became the general music director of the Ufa film company, and composed the musical score for Hanns Walter Kornblum's visionary film Wunder der Schöpfung (which served as inspiration for Stanley Kubrick's 2001).
Another project, which has only recently come to light, is the 1926 collaboration of the Waghalter Jazz Orchester with Rudolf Nelson in the recording of two of the latter's popular hits, Mädel mit der Knabenfigur and Mädelein.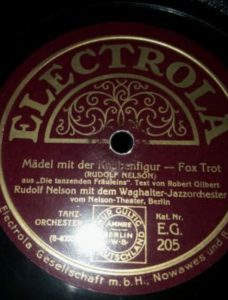 Mädel mit der Knabenfigur
Mädelein
Following the coming to power of the Nazi regime in January 1933, Rudolf Nelson fled Germany. He attempted to reestablish his career in Vienna, but he again had to flee for his life following the 1938 Anschluss. Nelson made his way to Amsterdam. Following the Nazi invasion of Holland, Nelson was seized and sent to the Westerbrook internment camp, which the Nazis and their Dutch collaborators used as a transport center for the deportation of Jews to the extermination camps in Nazi-occupied Poland. Nelson avoided this fate, survived the war, and resumed his musical activities in Amsterdam.
In 1953, Nelson worked with Ignatz Waghalter's daughter, Beatrice, who was living in Amsterdam, where she had resumed her career as a singer. A photo of Nelson and the daughter of his old friend was taken in Amsterdam in 1953.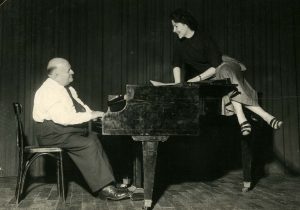 Nelson eventually returned to Berlin, where he died at the age of 81 in February 1960.